If you are planning a vacation to Southwest Florida, you are in for a treat!
Cape Coral is home to some of the best beaches, offering picturesque views, pristine shores, and endless opportunities for water activities.
A tour we think you'll love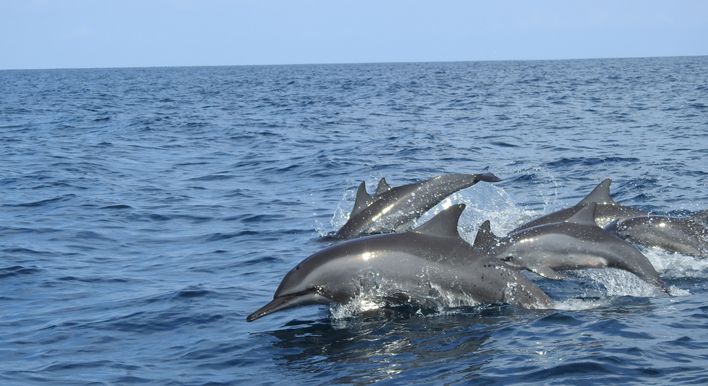 Dolphin Cruise
From $45
View tour
If you are a beach enthusiast, nature lover, or simply seeking an escape, look no further than the best beaches near Cape Coral. These pristine coastal havens are the ideal destination for your perfect getaway.
Enjoy the vibrant atmosphere of Fort Myers, stroll the unspoiled shores of Captiva Island, or shell away on Sanibel Island for the ultimate vacation.
It's time to grab your beach gear and get ready for some sun as you explore the best Cape Coral beaches!
1) Fort Myers Beach
Fort Myers Beach, nestled near Cape Coral and Fort Myers, offers a unique experience to travelers like you. Known for its beautiful beaches and major landmarks, Fort Myers is definitely worth a visit.
Most travelers go here to visit Lynn Hall Memorial Park. The beachfront park offers stunning views of the ocean and soft sandy shores. Soak up the sun, take a stroll, or have a picnic with your loved ones!
Aside from the Lynn Hall Memorial Park, take a walk on the iconic Fort Myers Beach Pier, which stretches out into the crystal turquoise waters. The pier is a great spot for scenic views and fishing, so don't forget your camera and your casting line.
2) Cabbage Key
Lush vegetation, towering palm trees, and a tranquil atmosphere are what you should expect on your visit to Cabbage Key.
Get lost in the island trails and explore the charming cottages and picturesque views overlooking the beautiful waters of the Gulf of Mexico.
Don't forget to pop into the historic Cabbage Key Inn for a delicious meal!
To make the most of your trip, book a Cabbage Key boat tour with Matlacha Boating Adventures. We offer a unique and personalized experience that will take you to all the hidden gems in the area. We also offer multiple cruises to:
3) Yacht Club Beach
Also known as Cape Coral Beach, it's one of the most beautiful beaches near Cape Coral.
Located in Yacht Club Community Park, the beach offers soft sandy shores and crystal clear waters, perfect for swimming, sunbathing, or simply relaxing under palm trees.
But what makes Yacht Club Beach in Cape Coral so special is the fishing pier. Whether you are an avid angler or enjoy casting a line, the pier offers a fantastic place for a big cath. So, pack your fishing gear and try your luck in the deep waters of Caloosahatchee River!
4) Captiva Island And Captiva Beach
Feel the sense of tranquillity wash over you from the moment you step onto Captiva Island. The island's picturesque views and serene atmosphere makes for the perfect combination for a relaxing vacation.
Known for its untouched natural beauty, Captiva Island makes the perfect backdrop for you to dip your toes in the crystal waters, enjoy water sports or enjoy a picnic.
Located on Captiva Island, Captiva Beach is a hidden treasure that offers a unique getaway experience.
The pristine white sand stretches as far as the eye can see, creating a breathtaking backdrop for all your beach adventures.
You can't go to Captiva Beach without immersing yourself in the shelling opportunities. Take a stroll along the shoreline, where you will find an abundance of beautiful seashells to create amazing crafts to remember your trip to Captiva Island.
5) Barefoot Beach
Barefoot Beach in Bonita Springs is known for its natural beauty and pristine shoreline.
Step on the soft powdery sand and let the scenic views and tranquil atmosphere make you relax before heading back to your room.
With the beach stretching for miles, you will have plenty of space to spread out and play beach games or enjoy the warm Florida sun. Make sure you add Barefoot Beach to your Cape Coral travel itinerary if you want to collect more shells.
6) Bonita Beach
While in Bonita Springs, you might as well check out another top beach – Bonita Beach!
Travelers flock to this shore because of its vibrant atmosphere and abundance of activities. It's the perfect spot to enjoy lively sand volleyball courts, perfect for enjoying a friendly game.
So, grab your friends or join other beachgoers and showcase your skills on the sandy court.
7) Sanibel Island Beach
One of the top-rated beaches near Cape Coral, Sanibel Island is a true paradise, offering unforgettable experiences.
Let the beauty and magic of Sanibel Island engulf you from the moment you step on the sandy shores this weekend. The crystal clear waters and the gentle sea breeze are enough to wash away all your woes.
Don't leave without ticking off these major landmarks on the island:
Lighthouse Beach Park and Sanibel City Pier

Bailey-Mathews National Shell Museum

Sanibel Island Farmers Market

Sanibel Historical Museum and Village
8) Turner Beach
Another superb beach experience near Cape Coral? How about going to Turner Beach on Sanibel Island?
From the calming sounds of gentle waves to awe-inspiring views of the Gulf of Mexico, you are in for a treat at the shore.
Known for its stunning sunsets, stick around to witness the magical colors painting the sky as the day comes to a close.
9) Lovers Key State Park
A visit to Lovers Key might be what you and your bae need this weekend!
Allegedly the name Lovers Key was coined by couples who journeyed to the romantic island despite the challenges. At the time, you could only access it by boat, but now a road leads you directly to the couple's haven.
The secluded location of Lovers Key creates a sense of serenity, making it the perfect destination for a couple looking for some quality alone time.
Besides stunning views of Cape Coral, lovebirds can go kayaking, hiking, or paddle boarding.
Relax On The Most Stunning Cape Coral Beaches
When it comes to stunning Cape Coral beaches, you can't run out of natural beauty and activities to explore in Southwest Florida. From golden sandy shores to crystal clear waters of the Gulf of Mexico, the best beaches in Cape Coral are a true paradise waiting to be discovered.
Picture yourself lounging under the warm Florida sun, feeling the soft sand beneath your feet while listening to the soothing sound of gentle waves crashing against the shore.
If that's not enough, book a boat tour with Matlacha Boating Adventures, who understand the perfect blend of relaxation and adventure. Our wide range of tours will take you to hidden gems and give you a unique perspective of the Cape Coral area.